From 27 Feb to 02 March 2017, representatives from 19 travel companies in Hanoi took part in the FAM TRIP to Hoang Su Phi to experience homestay services, and develop and operate tour products.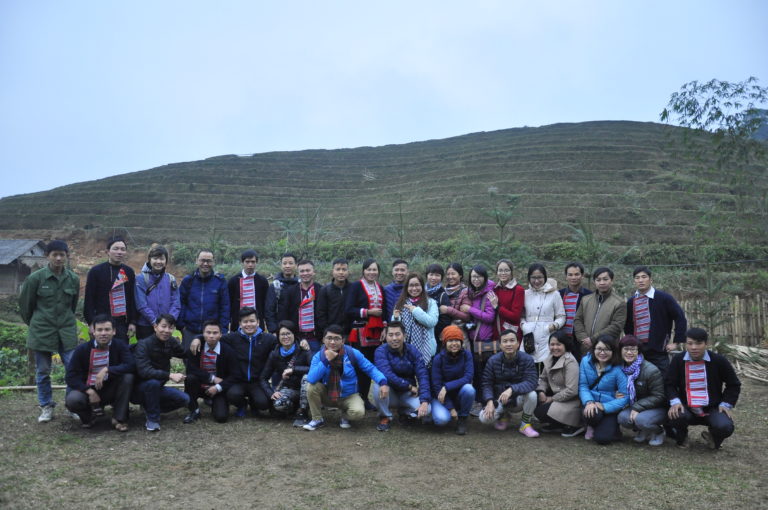 The delegation spent 4 days 3 nights staying and visiting 4 villages including Nậm Hồng, Nậm Ai and Tân Phong and Ban Phung. During the time here, the team had opportunities to be involved in the culture life of Red Dzao, Long Dress Dzao, Nung, Mông with numerous activities, try delicious local foods, see incredible terrace fields and go on several arduous treks in the jungle.
The team had a deep impression because of the beautiful landscape with terraced rice field and a sea of fluffy cloud and favorable climate as well as the healthy environment. The considerable trekking routes from easy to hard provided different experience when go trekking here. The dramatic sceneries of the mountain, village, and people in the forest were the truly memorable experience for everyone in the delegate.
Thanks to the support from the CBT project, the homestays in Hoang Su Phi were upgraded with bathrooms, toilets and standard mattresses and blankets. Most of the representatives provided good feedbacks on the facilities.
During the trip, representatives investigated the best time to visit Hoang Su Phi, how to access, suitable transportation & clients. In addition, meals were always available at the homestays with a variety of dishes including local daily food and local specialties food. At these homestays, people can spend your time to have a cup of coffee or tea with a wide terraced rice field.
Traditional music performances were valuable add-ons for the trip. The representative enjoyed the marvelous song, dancing and magic sessions presented by talent local artists. Some brilliant performances can be named are giữ chày, house dancing, bamboo dancing, pray for a child dancing, etc.
The representatives would want to say big thanks to the local people, especially the local authorities for supporting the FAM TRIP. On the third day of the trip, Hoang Su Phi vice president Lu Van Chung spent his time to meet the representatives to listen to their feedbacks on homestay services. Mr. Chung said it was valuable feedbacks which will help the homestay owners to improve their homestays and it's also good for the authorities to provide immediate support for the both sides.