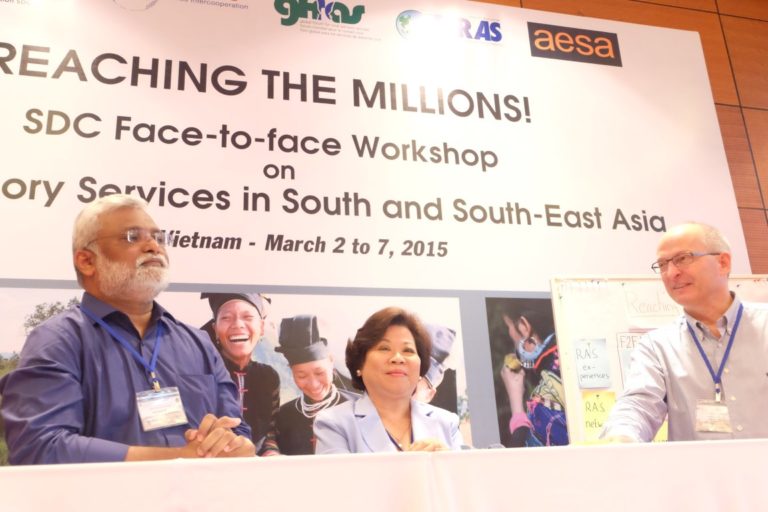 Center for Rural Economic Development as a spin-off of HELVETAS Swiss Intercooperation Vietnam was eagerly in charge of organizing a 6-day international workshop in March 2015 which involves numerous intellectuals in the field of Rural Advisory Services (RAS).
The SDC Face-to-Face Workshop on Rural Advisory Services is an annual event supported by the Agriculture & Food Security Network of the Swiss Agency for Development and Cooperation (SDC) in collaboration with HELVETAS Swiss Intercooperation, GFRAS, APIRAS, and AESA. This year, the topic "Reaching the Millions" was chosen as the overall theme of the workshop and Vietnam as an emerging country in agricultural economic was selected as the location. That gave CRED the opportunity to welcome 68 RAS experts and practitioners coming from different countries. The workshop lasted for 6 days wherein various aspects of RAS systems were discussed. The final results of the hard work were summarized and concluded in the Hanoi statement, which can be found here.
Knowledge and experience was shared, contacts were exchanged but next to that, fun was had too. The CRED team made every effort to ensure the Vietnam visit of the international folks was remarkable. A city tour on electric cars to the Old Quarter of Hanoi, a dinner party on a boat riding along the West Lake, and more importantly, field trips to the beautiful countryside of Vietnam where development projects are bringing hope to the locals were highlights of the week.
The workshop ended but the network keeps growing and evidently, so is CRED.