The workshop "
Post Covid 19 challenges and opportunities for Vietnam SMEs in natural ingredients and processed food sectors
" – one of big trade promotion events in year has been successfully held on December 2, 2021 in hybrid method (online and offline forms). CRED would like to thank all our partners,
Vietnam Trade Promotion Agency (Vietrade) and Swiss Import Promotion Programme (SIPPO) and SMEs in natural ingredients and food sectors
for your participation in the seminar and we hope that the workshop has already provided useful information about the opportunities and challenges of exporting natural ingredients and processed agricultural food products to Europe to the participants.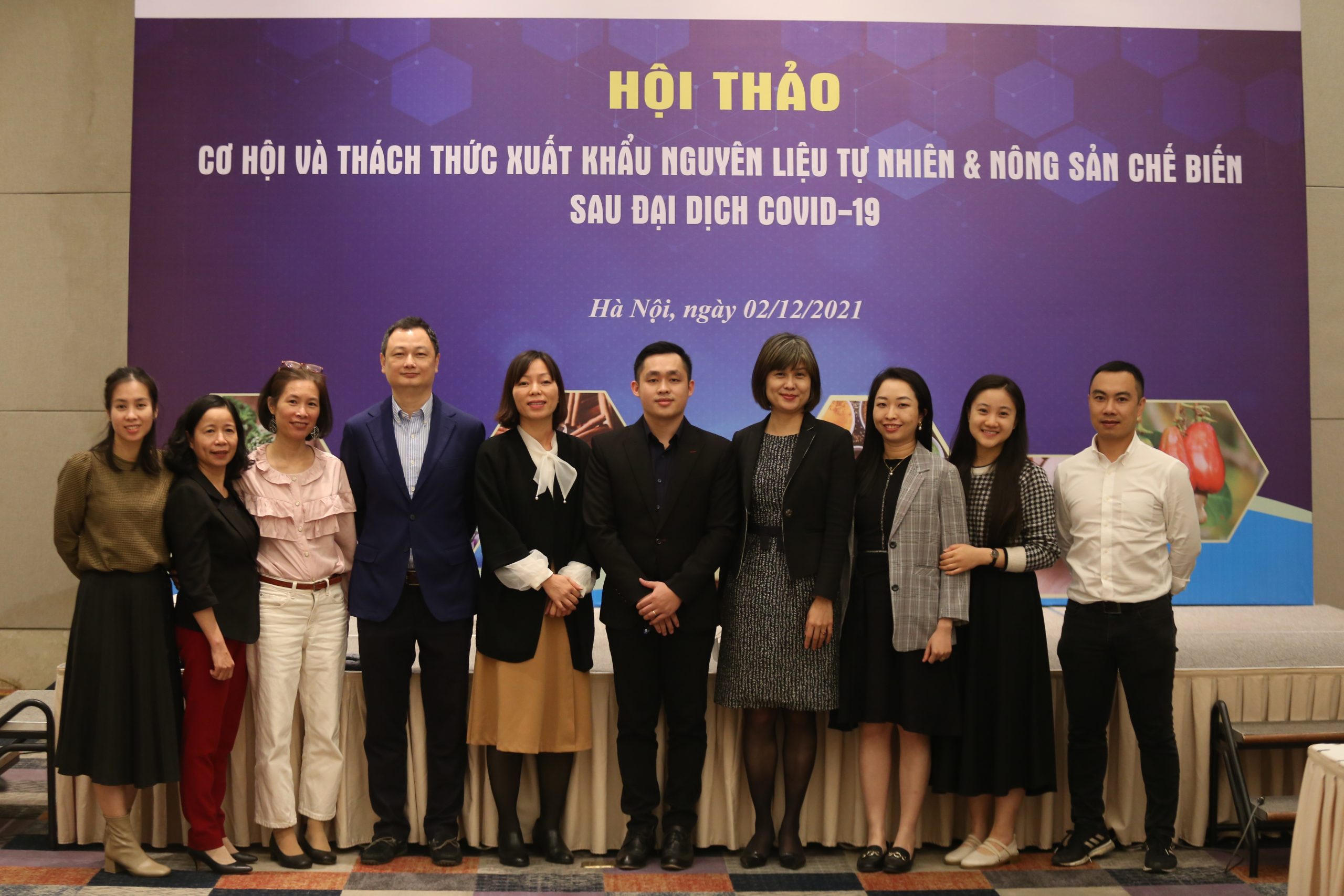 The event has brought strong perspectives from trade promotion agencies, business support organizations and from businesses in the natural materials and agricultural product processing industries themselves. The Regional Bio-Trade Project- phase II (𝐁𝐢𝐨𝐓𝐫𝐚𝐝𝐞) funded by the
Swiss State Secretariat for Economic Affairs

– SECO
and implemented by
CRED
, is supporting Vietnam SMEs in natural ingredients sectors to export sustainable products with virtual matchmaking activities, consulting on material areas development aligned with international standards and improving business capacity…
At the seminar, Mr. Hoang Minh Chien – Deputy Director of the Vietnam Trade Promotion Department emphasized the role of trade promotion organizations and information technology in supporting businesses in natural ingredients and processed food products and at the same time promote cooperation with each other in the field of trade promotion. Ms. Nguyen Thi Lien- Project Manager of BioTrade SECO – Phase II (BioTrade SECO Project) shared about the project and cooperation opportunities with businesses in the natural materials industry with the expectation that the project will contribute enhancing export capacity and expanding markets for Vietnamese enterprises. Furthermore, Ms Lien also emphasized the importance of biodiversity conservation through sustainable production and business activities.
Mr. Ta Minh Son – Representative of
The Union of Biodiversity Ethics for Trade
(UEBT) in Southeast Asia introduced sustainable trends in the natural ingredients industry and updated standards, sustainable exploitation of UEBT raw materials, market entry opportunities for UEBT certified products.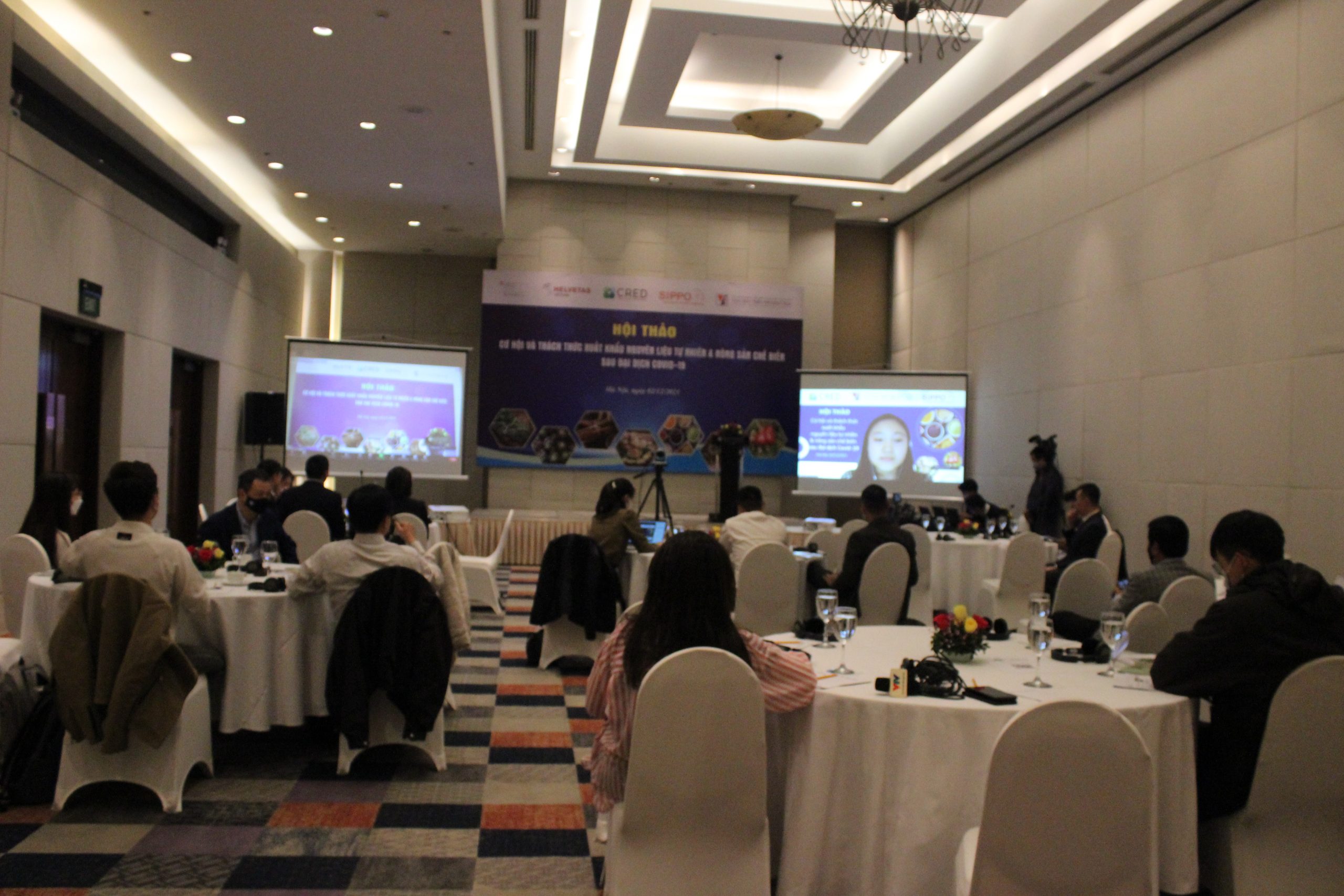 Mr. Charles Mordret, International Consultant for SIPPO, has an 25-year experience in International Trade and Business Development shared about the threats and opportunities for exporting countries that the end users is in Europe. As a consultant, Charles provides support to international organizations, governments, companies, investors and BSOs, in the field of trade promotion, business development, market intelligence, digitalization. As an expert in natural ingredients, processed food, organic products and fruits and vegetables, Charles is regularly hired to support trade missions and participation at trade fairs such as SIAL, BIOFACH, ANUGA, Fruit Logistica, Food Ingredients and In-Cosmetics.
Mentioned about the natural ingredient sector, Ms Geertje Otten, COO and Senior Expert of
ProFound
and lead developer of the Asian Green Business Accelerator. As an advisor and manager she has built up 20 years of professional expertise in the combination of sustainable development and commercial opportunities. She has worked with a diverse group of stakeholders and advised entrepreneurs ranging from small producers in origin to traders and end-market brands on the development of sustainable supply chains and inclusive business models.
In Europe, nowadays consumers tend to be interested in using green and eco-friendly products and consider it as a standard for high quality products and services. Consumers in this market are willing to pay higher prices for goods labeled with sustainable production standards. 
Read more about the workshop in press media:
Vneconomy
See more about the news in
VTV5